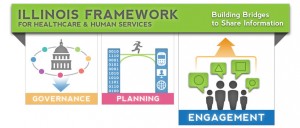 The Framework is engaging service recipients, service providers, advocates and state agency employees to gather ideas and insights for incorporation into a more user-friendly, customer-focused healthcare and human services information system. The Illinois Public Health Institute serves as the Framework's Stakeholder Engagement Team, leading outreach efforts to help ensure the system is responsive to users and operates efficiently.
The 2013 Listening Tour is underway!
The Stakeholder Engagement Project is in the midst of a second statewide Framework Listening Tour.  So far, the team has visited Chicago, Springfield, Bloomington, Alton, Naperville, Kankakee, Elgin, Rockford and Peoria.
More than 650 stakeholders have participated in the second Listening Tour thus far. Participants provided valuable feedback on the Framework's design, shared experiences about working within the current health and human services system, and offered ideas for how the Framework can enable a more efficient way of providing and accessing services in Illinois.
The Framework's Project Director, Kathleen Monahan, attended several meetings and has been available to answer questions and speak with stakeholders.
The Stakeholder Engagement Team will be hosting additional events online and across Illinois  in the coming weeks. More information will be posted soon!
The Stakeholder Engagement Project began in 2011 with the first statewide Listening Tour, which included 11 Town Hall Conversations, 11 Focus Groups with service recipients, and three virtual conversations.
In total, 734 clients, providers and advocates volunteered more than 1,800 hours of their time at 11 different locations around the state.
More information on the first Listening Tour, including the final report, are available through the link above.